One of the best soccer players, David Beckham's quotes about teamwork: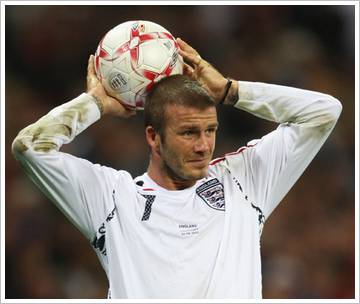 Being the brightest soccer star, David Beckham realize that the victory can not be achieved without working in team: 
"We have got great individuals but this team is not about individuals".
The only result David Beckham expect from the game is to win the match: "One thing will not change – we will be going out to win."
"Beckham is the player who works more than anyone here and he plays in a position that is not his. He makes sacrifices for the team. He does not play just to sell shirts."
"I'm captain but so many other players are captain of their club sides and we need that. We are lucky to have that."
Female soccer players teamwork quotes 
"I am a member of a team, and I rely on the team, I defer to it and sacrifice for it, because the team, not the individual, is the ultimate champion."
Mia Hamm quotes, American female Soccer Player. Mia Hamm was awarded as best female soccer player by ESPY twice, in 2000 and 2004 
"True champions aren't always the ones that win, but those with the most guts." 
Mia Hamm
Being a good teammate is when you try to sprint down a ball that everyone thinks is going out of bounds. But you go after it anyways and you get it.
If you don't love what you do, you won't do it with much conviction or passion. 
Mia Hamm
Advice to young players: Just to work hard and have fun. You have to work very hard but you will never reach the top if you don't have fun and enjoy the game also. 
Katia, Brazilian Female Soccer Player
Soccer coach Jose Mourinho given a nickname "The Special One". He was named like that by players and coaches and considered one of the most talented soccer coach ever.
To be the ultimate team, you must use your body and your mind. Draw up on the resources of your teammates. Choose your steps wisely and you will win. Remember, only teams succeed. 
Jose Mourinho
Other quotes about soccer
In Europe, it's different – you eat soccer, you breathe soccer, you drink soccer. Everything is about soccer. Thomas Dooley
In his life, a man can change wifes, political parties or religions but it cannot change his favourite football team. Eduardo Galleano