Legendary CEO of Apple Inc, Steve Jobs was named the Most Powerful Person in Business (Fortune Magazine, 2007)
Steve had his own approach to teamwork. Being an individualist, he always demand only the best from himself as well as from others. He thought that in order to create great products for Apple, an employee has to be in love with Apple. This is, of course, right next to employee's great skills that have to be above and beyond as well.
Read what did Steve Jobs think about teamwork and motivation.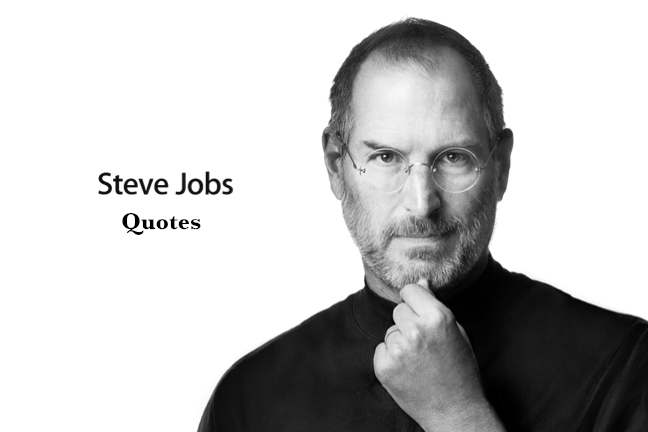 Quoting
legendary Steve Jobs about his team and
teamwork
:
This is one of the most famous
teamwork quotes
from latest interviews with Steve:
"I mean, some people say, 'Oh, God, if [Jobs] got run over by a bus, Apple would be in trouble.' And, you know, I think it wouldn't be a party, but there are really capable people at Apple. My job is to make the whole executive team good enough to be successors, so that's what I try to do."
"When I hire somebody really senior, competence is the ante. They have to be really smart. But the real issue for me is, Are they going to fall in love with Apple? Because if they fall in love with Apple, everything else will take care of itself. They'll want to do what's best for Apple, not what's best for them, what's best for Steve, or anybody else."
Steve Jobs quote about creating great products
We don't get a chance to do that many things, and every one should be really excellent. Because this is our life.
Steve Jobs has always had high expectations not only to his products, but to his team as well. He thought that being the best is the only way to become successful.
"My job is not to be easy on people. My jobs is to take these great people we have and to push them and make them even better."
"Be a yardstick of quality. Some people aren't used to an environment where excellence is expected."
Money was not the biggest motivation for Steve Jobs. His motivation was in innovation and being # 1 in everything he and his team does.
"I was worth over $1,000,000 when I was 23, and over $10,000,000 when I was 24, and over $100,000,000 when I was 25, and it wasn't that important because I never did it for the money."
"Innovation distinguishes between a leader and a follower."
"We don't get a chance to do that many things, and every one should be really excellent. Because this is our life. Life is brief, and then you die, you know? And we've all chosen to do this with our lives. So it better be damn good. It better be worth it."
"Here's to the crazy ones, the misfits, the rebels, the troublemakers, the round pegs in the square holes… the ones who see things differently — they're not fond of rules… You can quote them, disagree with them, glorify or vilify them, but the only thing you can't do is ignore them because they change things… they push the human race forward, and while some may see them as the crazy ones, we see genius, because the ones who are crazy enough to think that they can change the world, are the ones who do." – Think Different
"Quality is more important than quantity. One home run is much better than two doubles."